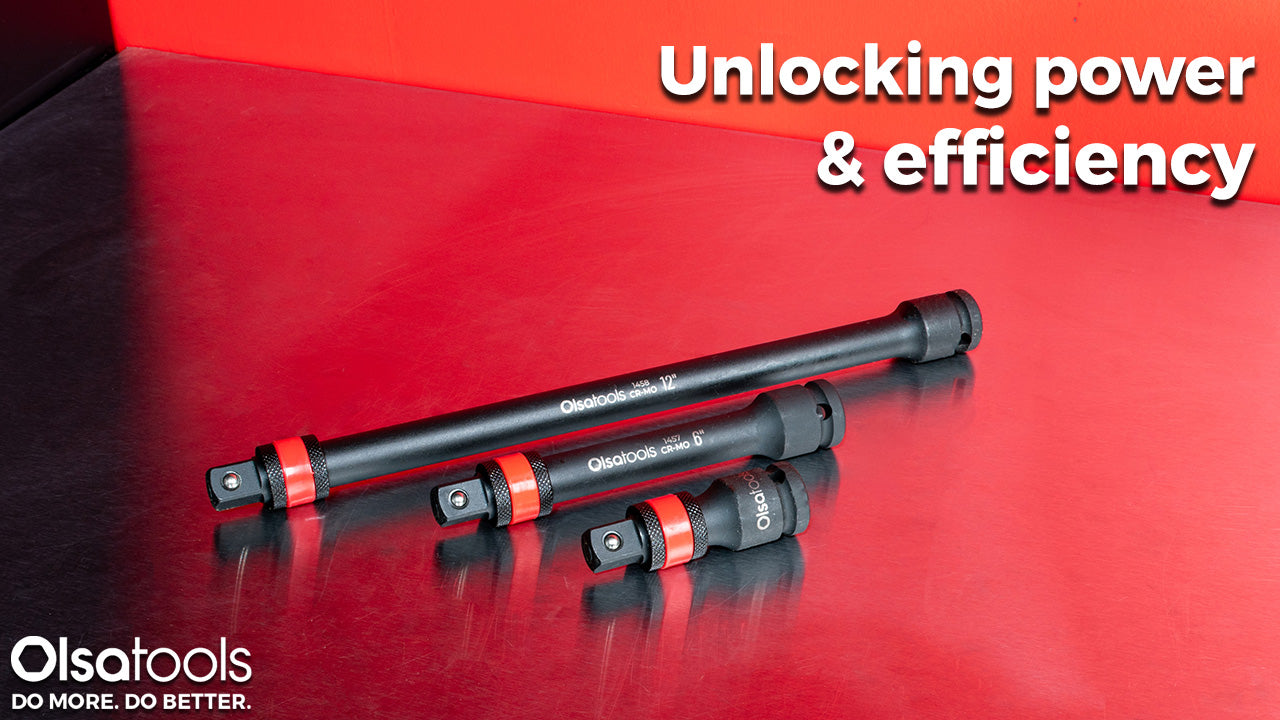 No more struggling with sockets that slip and slide. There's a tool that can make project completion smoother and more efficient—the convenient locking impact socket extension. We're going to dive into the world of these powerful tools by exploring their benefits and use cases. Ready to learn about the power of locking impact extensions?
Uncovering locking impact socket extensions
Locking impact socket extensions are powerful tools engineered to securely hold sockets in place during high-torque applications. They feature a locking mechanism that prevents sockets from slipping or falling off the extension. This tool gets rid of the frustration of sockets falling off and disappearing into the abyss! You'll have full control over projects at hard-to-reach places.
They are versatile and can adapt to different circumstances with ease. Whether you work on vehicles, repair heavy-duty equipment, fix up motorcycles, or even tackle home improvement tasks, locking impact socket extensions have got you covered no matter the job at hand.
Benefits that make locking impact socket extensions a must-have
Safety
Safety is essential when working with power tools and these locking extensions guarantee it. With a detent ball securing mechanism, you won't encounter any issues with sockets abruptly flying off; lowering the chances of accidents and injuries. Go ahead and work with confidence, your sockets will stay put where they belong.
Time-Savings
These locking impact extensions help you make the most of your time. By extending the reach of your impact tools, you can access fasteners that you wouldn't normally be able to reach. Plus, the locking design keeps a hold on your impact sockets, saving you from fishing for lost sockets!
Durability
The head-treated Chrome Molybdenum steel in these impact extensions makes for long-lasting functionality. It not only serves for strength and longevity but delivers a tool with greater shatter-resistant compared to Cr-V extensions, which is ideal to withstand the heavy blows of impact tools. Have the peace of mind that they will last longer than many other low-grade counterparts and perform best, project after project.
Torque Transfer
The extra thick shafts ensure that you're getting maximum torque transfer to break free stubborn nuts and bolts. You can be confident that the locking feature is designed to hold up to the demands of impact applications.
Situations where locking impact socket extensions shine
Picture this: you're working on a project, changing an almost impossible-to-reach spark plug at the bottom of the tube. Your patience levels are almost running out of your body but you need to remove those stubborn spark plugs.
With a non-locking extensions, you'll have a weak ball spring that will probably leave your sockets behind; nobody needs that! But with the locking mechanism of these locking impact extension sets you can effortlessly loosen those spark plugs while maintaining control. No more fumbling around for lost sockets—you'll return to your other tasks in no time.
Final Words
Locking impact socket extensions are the ultimate game-changers for mechanics and DIY enthusiasts alike. Their secure grip, versatility, and precision make them a must-have tool for automotive circumstances. Whether you're fixing your car on a busy roadside or tackling professional automotive maintenance, these extensions will elevate your skills and make your life easier. So, gear up, grab your locking impact socket extension set, and get ready to conquer every project with confidence and finesse. Your toolbox will thank you, and your projects will never be the same again!
Shop the best socket accessories