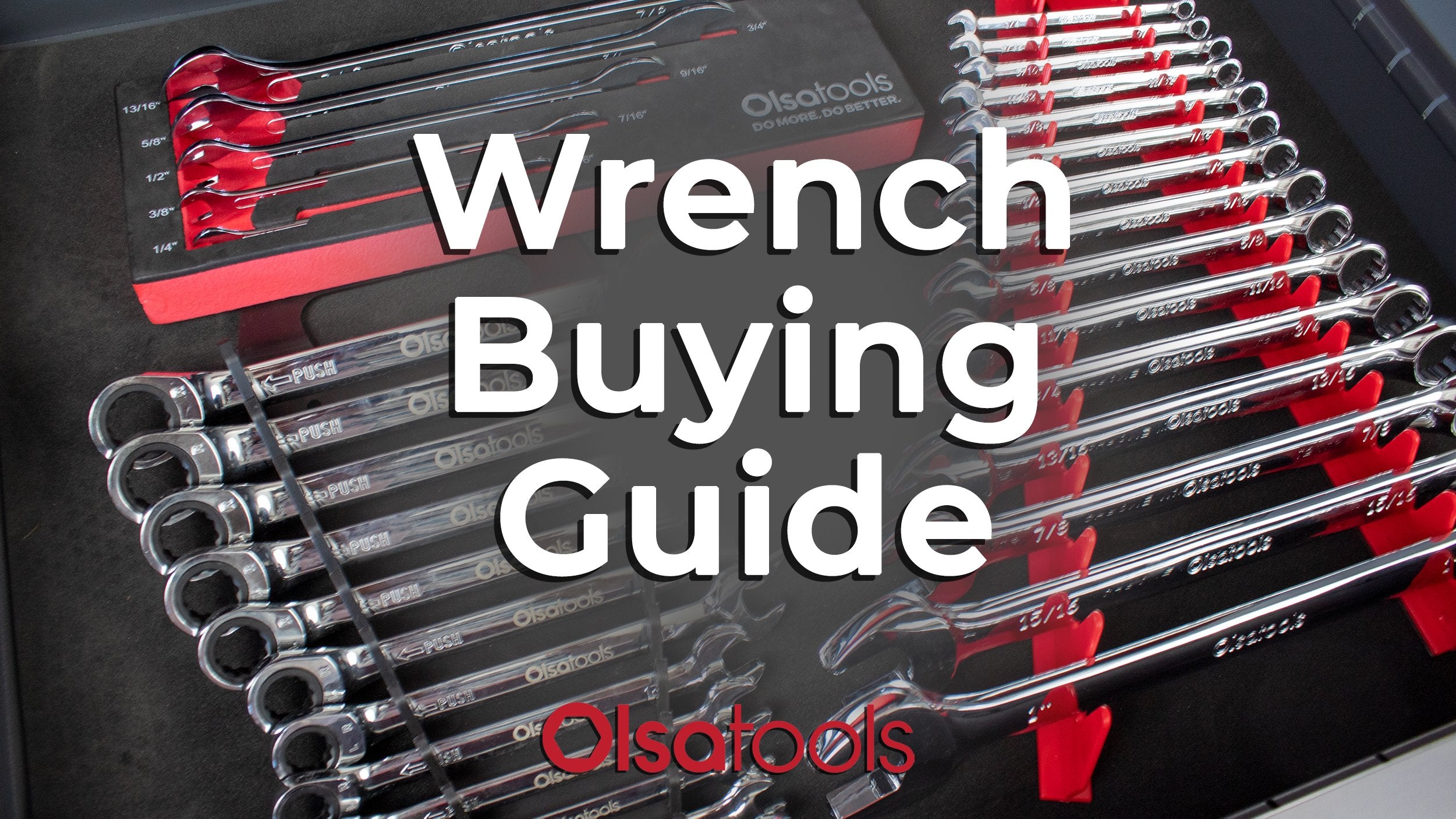 Wrenches perform the same function as sockets and ratchets - tightening or loosening fasteners - but in different situations, a wrench could be the better option for the job at hand. When a wrench is the better choice, how do you make sure that you have the right wrenches available? This guide will help you understand all of the options and how to choose the right set for you!
1) Types Of Wrenches
Works on any bolt type fastener
One box end one open end (usually the same size)
Loosens and tightens bolts
Ratchet mechanism saves you time by tightening or loosening without removing the tool from your fastener
Open-end and one ratchet box end (usually the same size)
Loosens and tightens bolts
These are usually dual open end

They are thinner than your standard wrench allowing you to reach in tight spaces

They have different sized ends
2) Wrench Material & Standard Specifications
The material in all types of wrenches is a decisive factor. The best wrench sets are usually made from chrome coated vanadium steel. Chrome coating is the best way to ensure that the tool will resistant to corrosion, and vanadium steel is exceptionally durable and will last for decades.
ASME™ is an internationally acknowledged standard for tool performance that helps measure the durability of products so that consumers know what tier of product they are purchasing. Look for wrenches that mention this standard; if they don't, chances are that the company does not take this into account when making their products.
Ensure that the product description mentions the material used in the wrenches as some wrench sets are made from high carbon steel, which has different levels of durability and strength. It's not easy to find out whether the company has used a durable one or a cheap option of carbon steel. Our slim profile wrenches and ratcheting wrenches are made of high strength unbreakable Cr-V (Chrome Vanadium Steel) and they are featured on PTEN (Profession Tools & Equipment News website)
3) 3 Factors To Determine What Type Of Wrenches You Need
Open-end, Combination or Combination Ratchet, what is the best wrench set? All three have their benefits, which may rank different for every mechanic. You have to see what best suits your needs. If you are looking for a type of wrench that gives you flexibility in different situations, a combination set with different sized ends would be best. If you are looking to save as much time as possible, a ratchet wrench set is a clear winner. Lastly, if you are looking to be able to reach into really tight spaces, a set of slim profile wrenches will give you that. Check out our Combination Wrench Set on Youtube:
4) Box End Design
If you decide that you would like box end wrenches, ensure that you look at getting a 12 point box end. This design is less likely to cause additional wear and tear on bolts and nuts by rounding them. Moreover, wrenches with 12 point openings give you a better grip, which helps you when you are dealing with a stuck bolt or fastener.
5) Storage Options
How you are going to store your wrench sets will determine how long your wrenches are kept looking new and ultimately, how long you are going to be using them. Purchasing a wrench set that comes in an organizer is a huge benefit as they perfectly fit, and most times, they are optimized to fit in toolboxes. All Olsa Tools wrenches come with organizers included. If you end up purchasing your wrench set from a different brand and they don't have included organizers, check out our wrench organizers, which help keep your toolbox in order and protect your wrenches. Our Magnetic Wrench Organizer ranks top 5 on Don't Waste Your Money.
6) Warranty
In the world of tools, having a lifetime warranty is king; better yet, having a warranty that doesn't make you jump on one leg while patting your head and reciting the alphabet backwards is even better. At Olsa Tools, all of our products come with a limited lifetime warranty where if during your time of owning any of our products fails, simply visit our warranty page submit your replacement inquiry. Our team will get you a replacement if available or issue you a credit for the retail price of a similar product on our site.
Well, we hope this guide will help you to choose the best wrench set for the job. Always remember to choose a top-quality wrench set that is made for professional use. If the set is not made to serve you for life, precision, multi-functionality and a warranty, it is not worth the money. You can check out a selection of our wrenches below:
Shop Our Wrenches