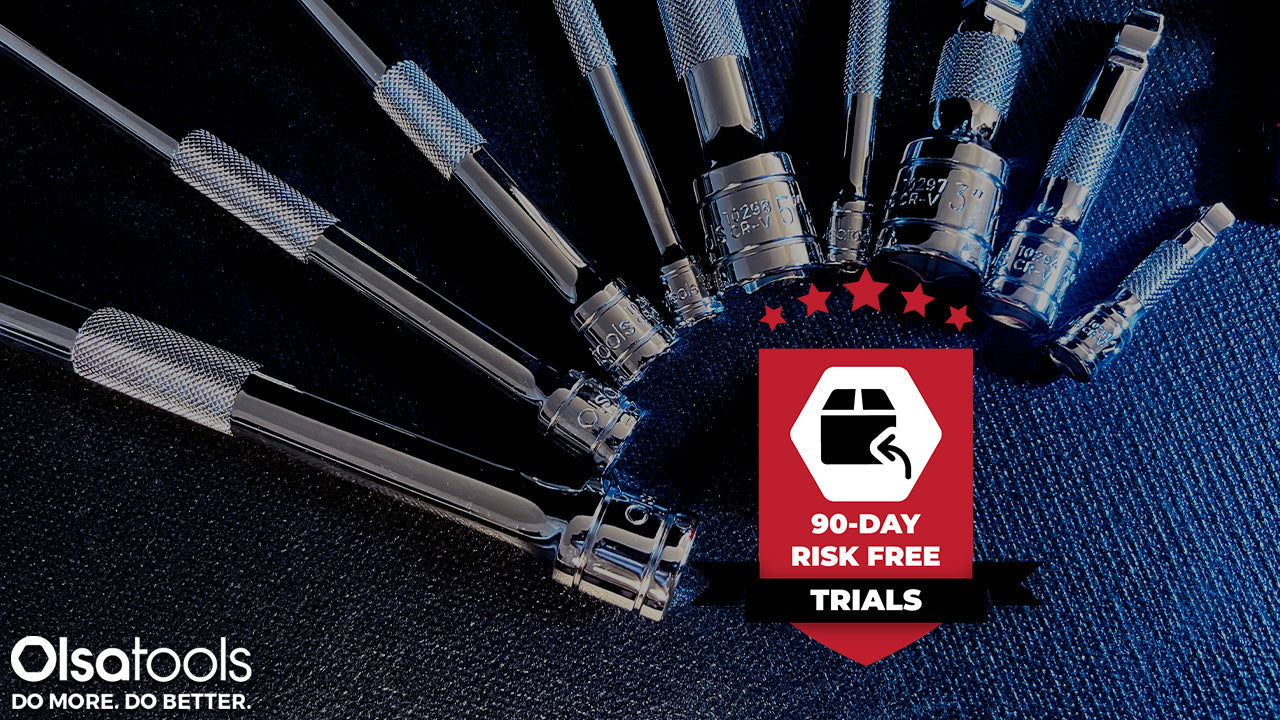 When investing in tools, there is one thing you should care about to ensure those work companions are worth every penny—the return policy. This is where we step in. Not only do we offer professional-grade products, but we also have your back with a 90-day risk-free return policy. Today, we dive in and explain how our return policy works and the incredible benefits it brings to you.
Why professional-grade tools matter
You know better than anyone the difference between a tool company that just sells tools and a tool company that provides professional-quality tools while taking good care of your shopping experience. It's night and day! At Olsa Tools, we understand this completely as our products are crafted to meet the demands of mechanics and tool enthusiasts alike. Rest assured that they will handle the tough stuff, whether it is fixing up an engine or handling a DIY project that's on your to-do list.
Our 90-day risk-free policy… your safety net
Now, here's the cool part for you. We are so confident in our gear lineup that each and every single item in our catalog is backed by a 90-day risk-free return policy. That's right, you have a whole three months to put your Olsa Tools through their paces. In that time frame, if you're not thrilled for any reason, our hassle-free return process has you covered.
Benefits of having risk-free returns
Test-drive tools
Imagine having the freedom to test out your newly acquired tools extensively. With the Olsa Tools return policy, we make this a reality. Give your Olsa Tools a real-world run and ensure they're a perfect fit for your demands.
Zero buyer's remorse
We've all been there—buying something and later on realizing that it is not quite what we needed. We get it, and that's why we decided to make this return policy possible. You can swap out your returned items without any strings attached.
Peace of mind
We stand by the quality of our products. So take this return policy as a handshake of trust, giving you the confidence to invest in affordable tools that will actually last a lifetime of use.
Your satisfaction matters
We value you. The 90-day return policy reflects our commitment to ensuring our customers are always happy with their purchases by making the tools-buying journey as smooth as possible.
How to make the most out of it
Here's your game plan to make the most of Olsa Tools' 90-day return policy.
Try it out
Don't let your new tool sit in the drawer. Use it in real-time situations to see how it performs.
Keep the packaging
Hang on the original packaging and accessories. I'll make the return process a breeze if you need it.
Confidence in your toolbox
Picture this: a toolbox stocked with professional-grade tools that you can count on. Now, add a 90-day return policy that's all about your satisfaction. That's the Olsa Tools way. When you invest in Olsa Tools, you're investing in a toolbox backed by quality and assurance. So, whether you're tinkering in your garage or working in a professional shop, know that Olsa Tools has got your back with the companions you need. Ready to gear up with confidence? Explore Olsa Tools' lineup today and let your drawer do the talking.
Shop our tool collection