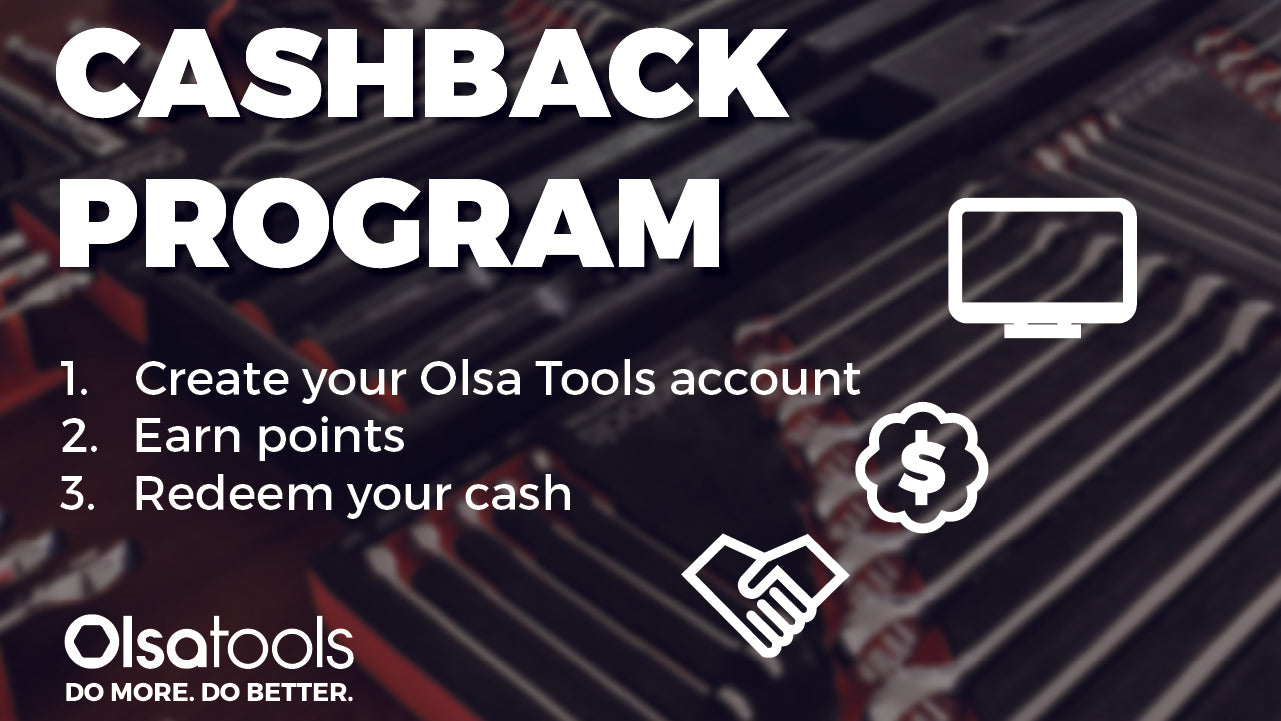 Have you ever wished that you could get rewarded for your work by adding top-notch tools to your collection? Well buckle up, because
Olsa Tools' Cashback Program
is here to help you level up your toolbox game! With the Olsa Tools cash back program you'll experience the thrill of earning cash back on every purchase you make and unfold amazing benefits!
How does the Cash Back Program work?
Our Cash Back Program works in 3 easy steps with a user-friendly process. Let's break it down:
1. Create your Olsa Tools Account:
This is the easiest part, you just need to join and create your Olsa Tools user. By doing so, you automatically get your first Cash Back Point and become eligible for cashback rewards.
2. Earn points:
Choose from our wide range of professional-quality products, from precise wrenches to sturdy impact socket sets. Each time you make a purchase while logged in to your Olsa Tools account, you automatically get $0.10 for every $1 spent. The more you shop, the more cash you accumulate. It's like getting paid to upgrade your toolbox—it's a win-win!
But we wanted to make this program even more fun, so we've created more ways to earn points. You have a total of 11 different ways to earn points, like subscribing to our YouTube page or adding a product review. Visit our Cashback Page for more details on this.
3. Redeem your cash:
Once you've accumulated a certain amount of cashback, you can redeem it towards future purchases. It is possible to redeem from $2 up to $60 and it's automatically shown at checkout. This is the perfect opportunity to stop paying full price for your next must-have items and start having control of your own savings.
Example scenario:
Let's bring this to life with an example. Imagine that you've been eyeing a socket set $62.87. You proceed to make the purchase, and thanks to our Cash Back Program, you earn $6.28 in cashback rewards.
Now, let's fast forward to your next acquisition—a handy socket organizer worth $21.27 to hold your new sockets. Since you've collected $6.28 in cashback from your previous purchase, at checkout, you redeem your cashback points, effectively reducing your cost to $14.99. Isn't that awesome?
Benefits of Olsa Tools' Cash Back Program
1. Extra money in your pocket:
Being part of the Olsa Tools Cash Back Program means that you're essentially earning free money. We know that you work hard, so why not enjoy the benefits of your labor and invest in high-quality products? Watch your saving grow by following simple actions.
2. More tools, less spending:
Cashback rewards offer a great opportunity to expand your tools arsenal without having to sell a kidney to buy tool-truck products. With Olsa Tools, you can find a variety of tool-truck-quality products for a fraction of the price. Whether you need a specialized wrench or a durable socket set, our program makes it possible to save on every purchase you make, ensuring you have the right tools for your projects.
3. Flexibility and control:
Unlike other reward programs, at Olsa Tools, you have the autonomy to decide when and how to redeem your cashback. Whether you want to use it immediately or save it for a larger purchase, the choice is yours. Enjoy flexibility and control to maximize your tool investment.
Are you ready to revolutionize the way you shop for tools? Olsa Tools' Cash Back Program is your ticket to earning extra cash to expend on your work companions. From the moment you create your Olsa Tools Account, you automatically unlock a world of benefits from the Olsa Tools universe that will have you smiling like a kid in a candy store. Don't miss out! Start racking up those cashback rewards and embrace the joy of professional-grade tools at unbeatable prices.
Shop Now & Earn Cash Back