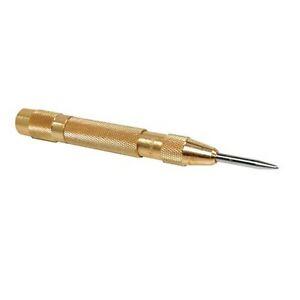 Best Automatic Center Punch Tool
Purpose of the Automatic Center Punch Tool 
When you are drilling on metal, the last thing you want is misleading the drill on metal as it keeps sliding off the drilling point and ruining the whole task. By using a hand tools such as an automatic centre, the punch will help you to prevent these mistakes and make sure that you will have an accurate and precise drilling every single time. If your profession or DIY project requires drilling, then you certainly will benefit from having a strong and versatile automatic centre punch.
Center Punch Tool: Features You Need
An excellent automatic centre punch should be able to make dents on various materials such as metallic, wooden or other working surfaces. In our guide, we will present the essential factors that you should consider before buying one.
Here are the factors you need to pay attention to when buying an automatic centre punch.
1) Material 
For the Automatic centre punch to last for an extended period and also be able to mark any surface, it should be made of hard material. However, as the quality increase, the price rises. If you are in a tight budget, try to find an acceptable equilibrium.
2) Adjustability
Some models have an adjustable knob by which you can adjust the spring tension. It will help you to vary the force that you apply according to your needs.
3) Bit Sharpness
For the bit to point accurately, it should be narrow. However, after an extended period, the punch bit can become dull, and it could move when you press it. You may want to sharpen it or replace it.
4) Replaceable Bit:
As the bit of the punch can become dull, you may need either to sharpen it or finally replace the punch tool completely. Your budget should spend some money upfront and buy the replacement bit rather than purchasing the entire centre punch. In the long run, this will save you a significant amount of money.
5) Comfortable Knob:
Some models in the market have this convenient knob. It allows you to create a lot of marks with ease. That said, your hand will not fatigue in case too many tasks need to complete.
For sure, there are a lot of options in the market when it comes to choosing an automatic centre punch. However, you can narrow down your choices by considering the above factors and eliminating those that do not match your criteria. Also, one of the best way to extend the life of your center punch tool is to use a tool organizer. Tool organizers are known to help categorize and organize all your tools in one place.