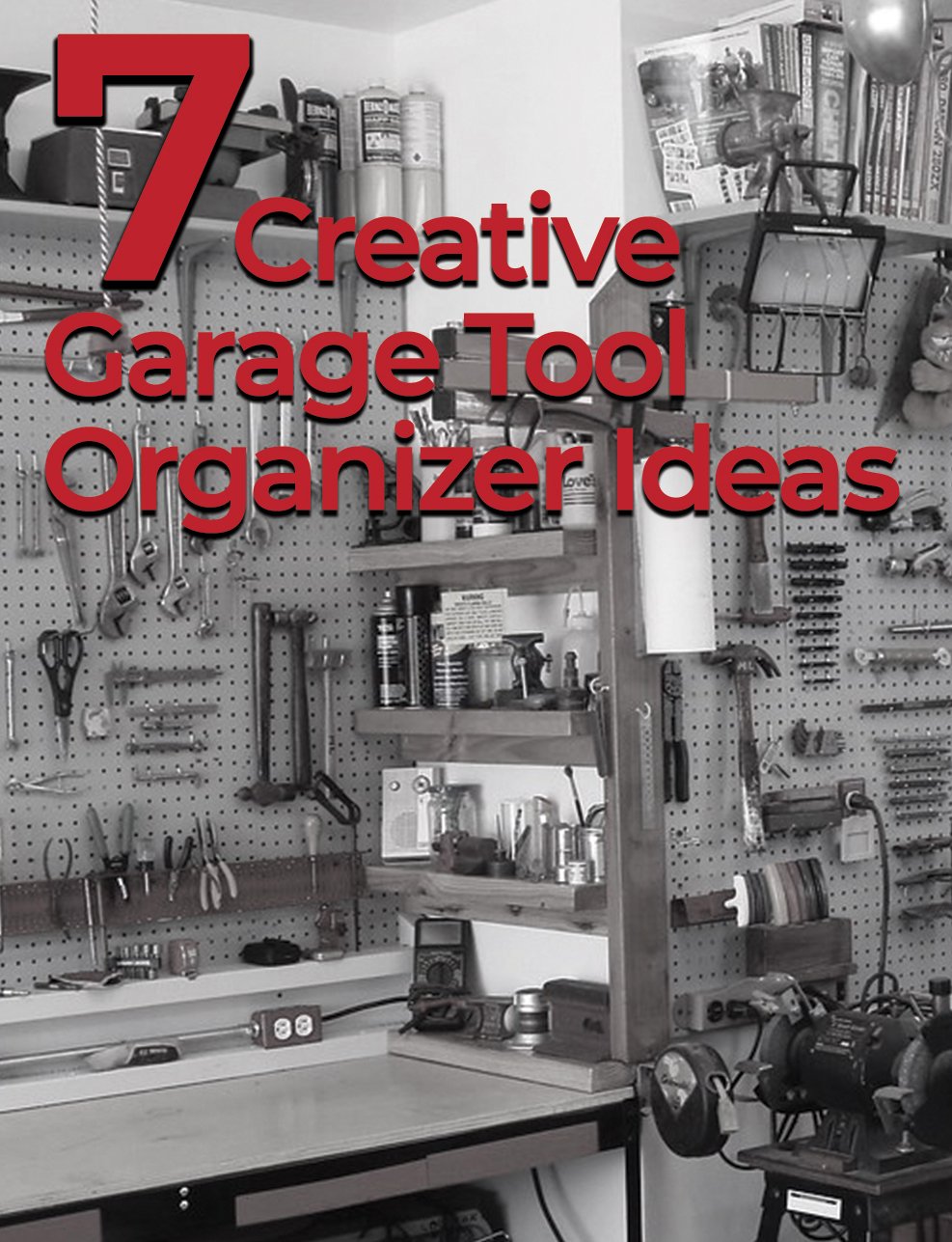 A messy garage with cluttered tools everywhere is a common issue for a lot of mechanics,  handymen/women. This is why we've compiled a list of unique tool organizer ideas for the garage, a lot of them make use of everyday items you never thought you could use and make an organizer out of them. We're always on the lookout for new, cost-effective, and efficient ways we can eliminate the clutter and organize our tools. As it turns out, some of the tool organizing solutions are affordable and simple to implement or use. 
Below is a quick video you can watch that will outline some unique tool organization ideas you can try.
Folding Bench Worktable 
The mounted folding bench tool organizer idea is very creative and will save you plenty of space in your garage. Not to mention it is very simple to complete. This method simply converts a used or bought door into a fold-down worktable. It is an ideal setup for the DIY enthusiast who does not want to spend too much money on a workbench. You can read the tutorials at Home-Dzine.
PVC Tool Organizer 
The PVC Tool Organizer is one of the most popular tool organizing methods among DIY enthusiasts. The reason for this is the simplicity and cost-effectiveness of implementing it. This is also a wonderful way to organize all your brooms and rakes in your garage. You can go through the tutorials at Newly Woodwards.
Your toolbox can either be well organized or not, but chances are, if you are reading this, it is the latter of the two options. Our Tool Box Organizers are super helpful when it comes to organizing your pliers, socket, wrenches & screwdrivers. Some of our top-selling organizers are:
The Olsa Tools magnetic socket holder is one of the best tool storage ideas in this article. With this socket holder, you get both, perfect socket organization and convenience thanks to the rare-earth magnets. They ensure that you are able to keep your new organizer perfectly attached to any steel surface; even upside down! The rubberized magnetic base gives you peace of mind by ensuring you don't scratch the surface you place it on.

2. Socket Storage Trays
If you want a simple yet effective tool storage idea, these trays are an efficient way to organize your sockets. Choose between a 6 pc 2-row set or a 6 pc 3-row set to hold your Deep, Semi-deep & Standard Sockets. The high-impact ABS plastic is lightweight and durable enough to ensure many years of efficient organization. 
With this convenient and multipurpose magnetic screwdriver organizer, you can neatly store all of your screwdrivers and other small tools in the same place. The neodymium magnets allow you to save space in your toolbox, by keeping unmatched strength when loaded with tools and mounted on any steel surface. 
Plastic Bottle
If you collect plastic bottles, this tool organization method is perfect for you to recycle all your bottles into nuts, bolts, screws, and nail holders. You simply have to create a hole on the plastic bottle that will fit your entire fist. Then hang the bottle onto your pegboard. You can read more at
Popular Woodworking
.


Custom Tool Wall
This custom tool wall will have everything you need and can be constructed easily with slats and versatile hangers. You can read more on this custom tool wall at
WoodCraft
.


Peg Boards With Shelve Units
Here is another cost-effective idea for organizing your garage. This method makes full use of pegboards and rain gutter as shelving units. You can read more about this idea at
AnyoneCanDecorate
.
Garage Bike Storage


You can save a lot of room in your garage by organizing all your Bikes. This bike rack idea helps compress the amount of space your bike racks occupy. Also, the design is very easy to implement. You can read more on how to implement this idea on Bike Forums.
Whether you want some tool storage ideas to implement by yourself or you want some ready-to-use tool organizers for your garage, here you find the best option to satisfy the needs of any mechanic or DIYer. All of our tool organizers are engineered with tool truck quality without the tool truck price and are backed with a 100% satisfaction guaranteed & limited lifetime warranty, and 90-days risk-free returns to give you peace of mind.  
Shop The Most Useful Tool Storage Ideas