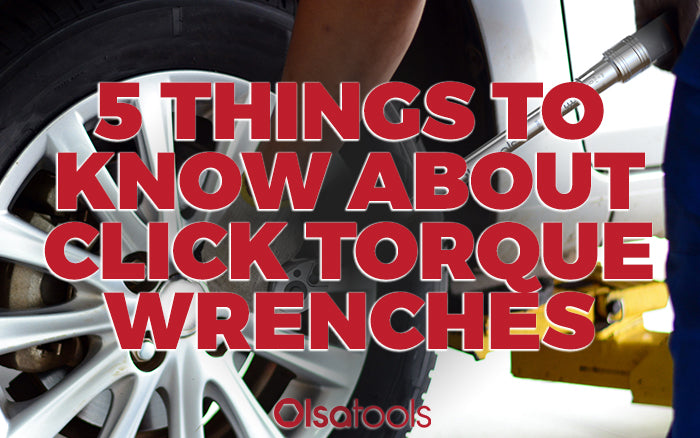 Torque wrenches serve a multitude of uses in a shop and should be a tool that you have in your workstation. The purpose of using any torque wrench is to achieve a specific torque value on your fastener. There are a few different styles of torque wrenches like the dial, split-beam, digital, and click. The click torque wrench is favoured by most due to the ease of use, affordability and accuracy.
A click torque wrench is ideal to most, as it has a loud click that is emitted when the set torque value is achieved, allowing you to back off the force quickly. Split beam and dial have a visual gauge that displays the current amount of torque that is being applied; the split beam can be slightly harder to achieve a precise torque spec. Watch Mechanic Link's review and testing of our click torque wrenches.
Torque Figures
Torque wrenches do have different capabilities of torque figures that they are rated at, the range can be anywhere from 10 to 1000 ft-lb. Keep in mind your most common uses where you are looking to achieve a specific torque value to guide your decision on what range you need. The drive size will impact the torque values that each can achieve.
Accuracy
Torque wrenches are only as great as their accuracy and that is why you should get a click torque wrench with guaranteed accuracy. Olsa Tools torque wrenches are certified ±3% accurate and come with a certificate of tested accuracy for each wrench.
Drive sizes
Different drive sizes give you different torque rating ranges. Dependent on the type of jobs that you are working on you may only need one torque wrench, but the size of the wrench itself will also change so if you only need torque figures up to 80 ft-lb don't get the bigger one just because, it could be hard to use for the purpose that you need it for. We have our click torque wrench available in all three drive sizes ¼", ½" or ⅜".
Adjustment Type
When looking at purchasing a click torque wrench you want a product that makes your job easier in even the slightest way. An auto-locking adjustment knob will make your job easier by not having to manually dial in your lock setting. Also, always remember that when the tool is not in use to dial off the torque to help keep it accurate for as long as possible. Should you need to get your torque wrenches recalibrated send us an email or call us at 1-877-252-OLSA (6572).
Quality You Deserve
When looking for a tool to add to your workstation you want to get professional quality if you can afford to do so and this is for a number of reasons: longevity, reliability, and workmanship to name a few. Our click torque wrenches are all made out of Cr-V (Chrome Vanadium) Steel. The knurled handle grip is large and comfortable in your hand, and the weight of the ratchet has a substance to it that other brands don't have at the price point of our click torque wrenches. Plus, like all Olsa Tools products they are backed by a 100% satisfaction guarantee, 30-day risk-free returns and a limited lifetime warranty giving you peace of mind in your investment. Watch Marc-André with ATV Guys compare our click torque wrenches.
You deserve the best quality professional tools at affordable prices; At Olsa Tools you get exactly that. Enjoy highly accurate, easy-to-use professional-grade click torque wrenches that come in 3 drive sizes. If you are looking for a different type of torque wrench have a look at our split-beam or digital torque wrenches as they offer a lot of the same features but with high torque values for up to 60% less than other big brand name professional tool companies.
Shop Our Professional Hand Tools