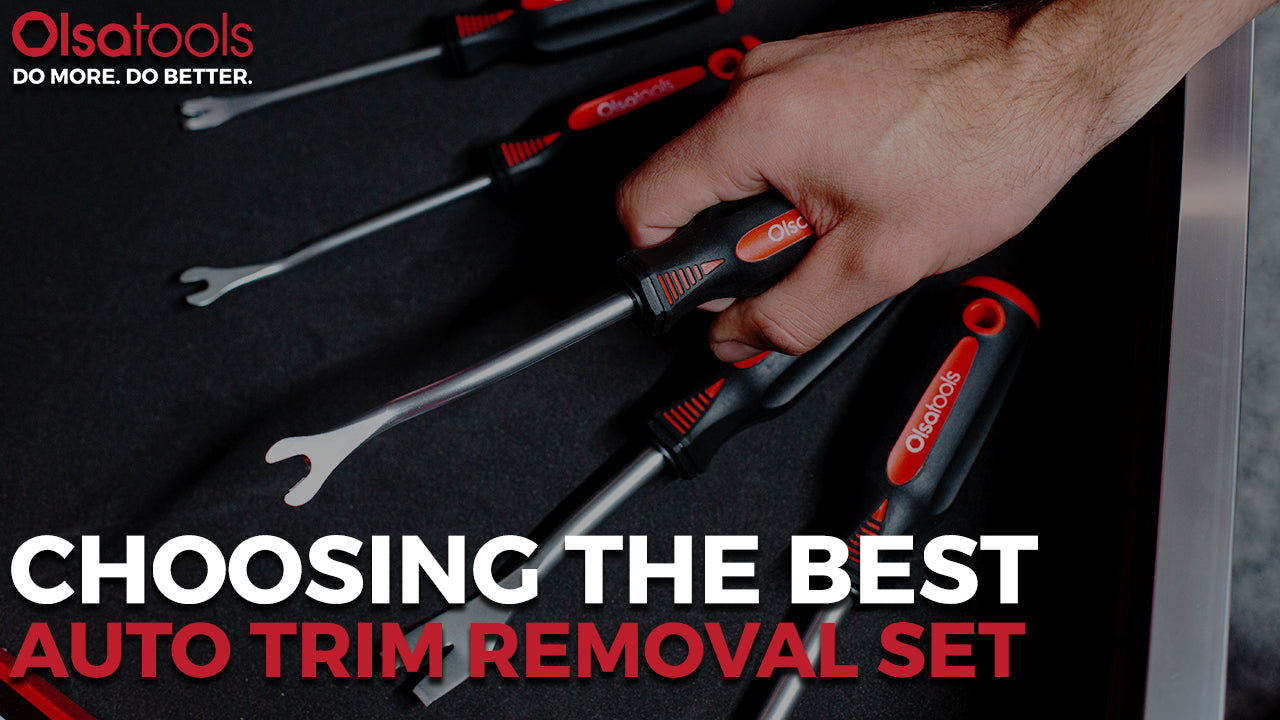 It is essential to have the right tool to make car trim removal work easy. However, with so many types available on the market, it may be a headache trying to decide which one to pick. We want to make your life easier by showing you 2 of the must-have features you need to consider when choosing the best auto trim removal set.
What Are Auto Trim Removal Tools? 
Car trim removal tools are designed to remove interior or exterior trim, mold, snap fasteners, clips, dashboards, and many other parts of a car. These are tasks that are mostly found on an everyday basis, so this is what makes owning a professional-grade trim removal tool is so important for any professional mechanic. Here are some of the features that make the best fastener remover and auto trim removal tool
kit: 
1. Multiple Types Of Tips & Sizes 
There are plenty of options when it comes to the tips of the best auto trim removal tool kit; the most convenient kit includes different heads to best suit all of your needs, and most importantly, they do not cause damage when used properly. The Olsa Tools 5pc Fastener Remover Set features the most common and useful sizes:  
Small V-shaped notch tip,  8-1/4-inch Length

1/4" U-shaped notch tip, 8-3/4-inch Length

5/16" U-shaped notch tip, 8-3/4-inch Length

Large V-shaped notch tip, 9-inch Length

Square notch tip, 9-7/8-inch Length
These sizes will help you to complete your job faster and damage-free while removing most components in any car; from stubborn pieces to oddly shaped clips and fasteners. So when it comes to working on different jobs, the shape and thickness of these tips come in handy because they are engineered with multipurpose use in mind. 
2. Material & Handle In The Trim Removal Tool
Along with a variety of sizes, choosing a set that is made from a durable and heavy-duty material will have an impact on how long these tools will last. The tips on our Fastener Remover Set is made from SVCM steel that has a durable satin-finish, and the handle is made of TPV rubber. The tip is precision-made to prevent scratches and damage to surfaces like vehicle paint, leather or chrome, and the handle is designed to deliver a comfortable grip, with resistance to chemicals and corrosion. 
Summary
With a full compact kit of auto trim removal tools you can remove most components on vehicles, while completing the job with a less likelihood of causing damage to a car. However, keep in mind that a tool is only as it user, so you still have to be cautious too.
The Olsa Tools Fastener Remover Set has all of these features and also comes with a molded case so that you can keep your fastener removers neatly organized in your toolbox. Remember, all Olsa Tools hand tools come with a limited lifetime warranty with a 100% satisfaction guarantee and a 90-day risk-free return policy. Buy with peace of mind from Olsa Tools and join the hundreds of thousands of mechanics across North America that trust us!
Shop Our Auto Trim Removal Tools & Related Products