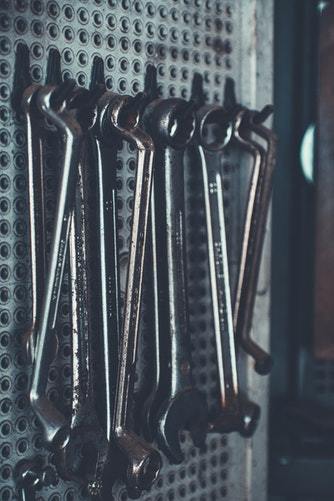 Guide to Organizing your Tool Box Drawers
When you invested a lot of money in a tool chest, you did it so that you can store all your tools and accessories in one place. Also since you expect the tool chest to last you a lifetime, it's very important to organize your tool chest drawers so that you're not constantly digging through the drawers hoping to find the right tools that you need. When you have a thoroughly organize to tool drawer, it becomes much easier to pull out the tools that you need immediately. We'll discuss methods you can use to organize your tool chest drawers.
Organizing your Tool Drawers
1. Filter through your most used tools
Before deciding which tools should go where, you should first ask yourself the question, "which tools do you frequently used?" Once you've answered this question, the task of tool organizing will become much easier.
There are tools in your collection that you use more often. Those type of tools you want to keep at the top tool box drawers or at least above waist high. It will allow you to immediately pull them out when you need them.
On the other hand, you can place tools that you barely use at the bottom of the tool drawers. Since you don't use them that often, it won't be a hassle to bend down every now and then.
2. Categorize tools based on their units of measurement
Another thing you can do to organize your tool drawers is to sort them by units of measure. For instance, you can put all the Standard unit measurement in one drawer while placing the Metric measurement tools in a different drawer. This will make it easier for you to reach for the correct tools without wasting time.
If you do decide to put both Standard and Metric in a single drawer, make sure to separate them using a tool organizer. We'll discuss this method below.
3. Use tool organizers
Another way to organize your drawers is to use tool organizers to sort all your tools. You can have separate tool organizer for your sockets, wrenches, hex bit, and pliers. By organizing tools with a tool organizer, it'll make it more convenient in finding the right tools that you need in the future. For instance, some socket organizers come with label markings on the socket organizer which allows you organize them according to their particular measurement and size. 
4. Categorize similar tools
Similar to the section above, categorizing your tools based on their type will make it easier to find them in the future. You can organize all your sockets, wrenches, hex bits, and pliers with their respective tool type. You can do this by using tool organizers and placing them in a dedicated space in tool drawers. An example would be to place all the socket organizers on one drawer, while you place all the wrench organizers in another drawer.
5. Separate valuable tools
The last strategy to keeping your tool drawers perfectly organize is the separate your important tools from others. The importance of these tools may be its purchased price or frequent use of them. Whichever the reason you find these tools important, it's good to keep them in perfect working conditions. You can use toolbox liner and place it underneath the tool to keep them from getting scratched or banged whenever the drawer is opened and close. You can cut the toolbox drawer liner to the exact measurement of your drawers. If you have leftover liners, you can use these and place them at the bottom of your other toolbox drawers.
Summary
You may or may not have the most expensive toolbox; however, if you do not organize them correctly, it will make it more challenging to locate a specific tool when you need them.