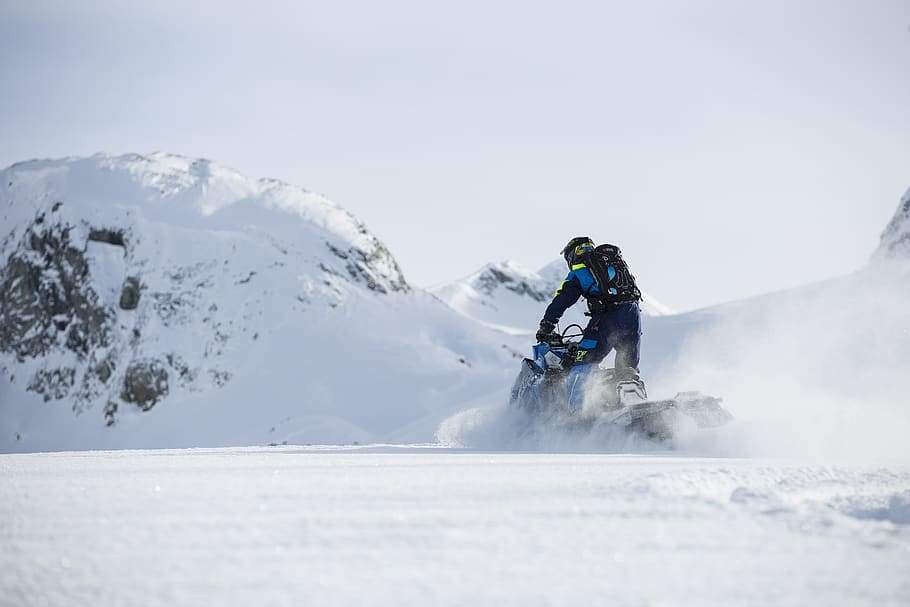 Snowmobiling is a favourite hobby for many, and we usually spend the summer fixing up and modifying our snowmobiles for our winter snowmobiling trips. After repairing, maintaining, tuning and finishing prepping your sled for your trip, you have to know where to take it! We researched for you and have compiled a list of the 4 Best Places to Snowmobile in 2020. Each one of these places is usually a hot topic when you talk to anyone about where they should be going for their next big trip.
West Yellowstone, Montana

​
Starting off our list of the best snowmobiling in the US is West Yellowstone, Montana. Thrilling mountain views, 400 miles of trails and an average of 150 inches of annual snowfall, you are sure to have a blast sledding through some of the groomed or backcountry trails in this area. Snow usually arrives early and stays late, so you can enjoy riding outside of peak seasons. Yellowstone Vacations offers two guided tours, Old Faithful and Yellowstone Park Grand Canyon. These will show you the best that the region has to offer alongside some fantastic snowmobile trails. Old Faithful Geyser Basin Tour is 65 miles, and you pass by the inkpots, will most likely see some wildlife and get to experience Old Faithful halfway through the day. The Yellowstone Grand Canyon tour is 90 miles and takes you past the upper and lower falls, and many of the active geysers in the area.
Island Park Idaho
Well known for its diverse and technical terrain that includes tree riding, 500 miles of trails and over 200 inches of average snowfall, Idaho Park is a solid choice. Riding elevation can vary from 5,000 - 10,000 feet along the largest Mainstreet stretch in the world. You will be able to start and keep going to the extent of your supplies! You will pass through towns along the trail, making it possible to enjoy a much longer touring route. There are large off-trail sections, such as Jefferson and Sawtelle. The Freemont Country Snowmobile report is updated daily with scheduled route groomings.
Wyoming: You can't go wrong.
There is no doubt that Wyoming is one of the best snowmobiling places in the US, as it is jam-packed with over 2,500 combined miles of trails. You will experience a variety of different must-see trails that are all close together; Hook up the trailer, and go...and go….just keep going! The Continental Divide Snowmobile Trail (CDST) has impressive scenery, an excellent opportunity to see wildlife and even go ice fishing. Trails of all types can be enjoyed, and with Snowmobile rental companies scattered across the region, there are lots of great options to pick one up on your way if you are coming form out of state! 
Grand Lake Colorado
150 miles of clearly marked trails that take you across meadows, hills, mountains and ridges combined with astonishing scenery is sure to be a draw for any sledding trip. Go Grand Canyon Snowmobiling has some awesome links to find out trail conditions, and rental companies in the area.
Be Prepared With Olsa Tools
Don't forget when planning your trip to bring spare tools in case you need to change a spark plug or make other small fixes! Olsa Tools Magnetic Screwdriver Set and Magnetic Socket Holder will make sure you have the necessary tools for any last-minute fixes or on the spot tune-ups on your trip!