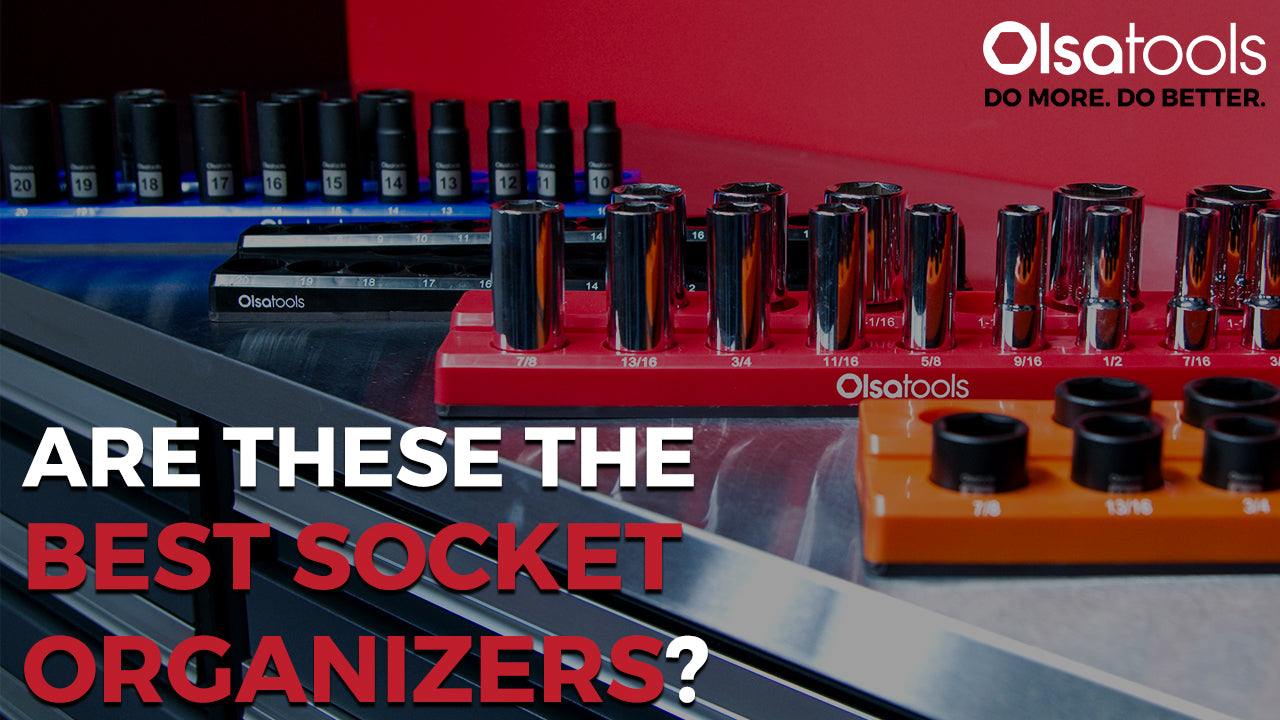 Are you constantly wasting valuable time looking for that socket? We know untidy workspaces lead to frustration and time-wasted, this is why you need the best socket organizer to keep your toolbox clutter-free and organized. We put together the top 5 socket organizers for you to choose the best option for your needs.
Types of Socket Organizers
Do you have a lot of sockets but not enough drawer space to store them? With this Olsa Tools magnetic socket organizer you will have more options to store them. Quickly and effortlessly store up to 68 SAE sockets or 75 Metric sockets thanks to this socket holder and stop wasting time and energy trying to find the right tool. The tray is built with strong ferrite magnets that keep your sockets firmly mounted onto any steel surface (YES, even upside down), simply place each socket into its easy-to-read hole and have your socket within an arm's reach anytime you need to pick out your sockets. Plus, it works with all types of sockets (deep & shallow) chrome and (Olsa Tools) impact sockets. 
If you're looking for organization and also want to carry your sockets with ease anywhere you need to, this Olsa Tools aluminum socket organizer rail is a must-have product. The 3-piece organizer set stores up to 58 of your ¼, ⅜, and ½ inch drives sockets and features sturdy anodized aluminum rails and tough clips, each clip is designed with a spring-loaded ball bearing that holds your sockets firmly in place, allowing you to carry it around or hang it on your tool rack. You can move around these clips as needed; rearranging them on the rail if necessary or removing one completely so they're all securely organized.
Our socket organizer tray is a great socket storage solution thanks to its large socket capacity but, it also features a convenient handle for easy portability. The clips are made from high-quality ABS clips with spring-loaded bearings that give you the peace of mind of knowing you never lose your socket while carrying it around to your next job is. It stores up to 80 of your ¼, ⅜, and ½ inch drive sockets. Plus, you can even customize your socket set by buying extra clips in ¾ inch so be confident that your sockets are secure in this tray! 
Say goodbye to the clutter! Organize your sockets with ease and save time by finding the size you need with this tray. This Olsa Tools socket storage tray set is designed with an innovative and easy-to-read labelling system that clearly marks socket sizes, making this great for those who want a stationary SAE & Metric socket organizer set. This 6-piece set organizer works with all types of sockets, storing 261 of your 1/4-Inch, 3/8-Inch, and ½ inch drive SAE and Metric sockets with 3 colours to meet your preferences and style. The design is made with durable plastic so it can withstand abuse without scratching or cracking easier than other types of material. 
Effortlessly transport around your sockets with this magnetic portable socket organizer tray. The tray can store up to 28 of your ⅜ drive sockets while holding your sockets on their side instead of standing up you so you can take up much less space in your drawer and make room for more tools. The easy-to-carry convenient handle design will keep your tools where you need them to be. Plus, the magnets on the backside of the tray securely store your sockets so you can mount it onto almost any steel surface with ease, saving you much space and helping you work efficiently. 
What's The Best Socket Organizer Choice? 
The best choice will depend on your needs. Whether you prefer a socket holder for your toolbox or one for carrying around your sockets, Olsa Tools socket organizers selection gives you multiple products to choose from. Our products are all come with a limited lifetime warranty, 100% satisfaction guarantee and are backed by a 30-day risk-free return period. 
Shop Our Professional Socket Organizers