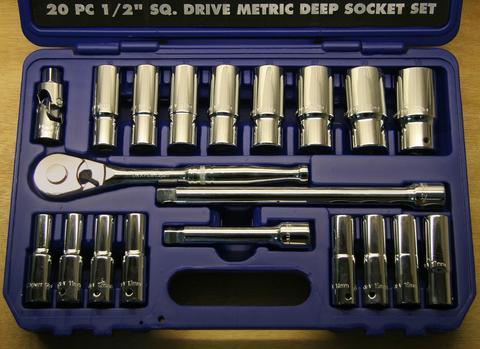 From the easiest to the most complex work, having a variety of sockets is crucial in order to loosen and tighten fasteners. So if you've wondered how a socket set can benefit your job, we've got a list of the top 3 advantages of owning a professional-grade socket set.
Advantages of Socket Sets
Before buying your own professional socket set, make sure to look for these benefits so you can quickly and easily loosen and tighten any size of fasteners. 
1. Space Saver
The best socket sets help you to save space in your garage and keep all your sockets in the same place. This is why a socket set with a case takes up less space. Alternatively, if you need another option to organize your sockets, our selection of socket organizers come in handy and make sure you never lose that socket again. Our impact socket sets and a selection of socket organizers will help you work more efficiently while leaving your workshop clutter-free. Plus, our impact sockets come with a moulded carrying case so you can safely store and carry around your sockets no matter where your next job is!  
2. Complete Socket Sets
Every garage mechanic, professional mechanic or DIYer has come up with an awkward nut or a bolt but without the right tool to fit on it. This is why the best socket sets have a reliable and precise sizing that will have the most common sizes so that you do not find yourself in this type of situation anymore. The Olsa Tools impact socket set features both Metric and SAE sockets with the most common sizes so you can pick the right tool you need when working on multiple activities. (We also have a complete line up of chrome sockets launching towards the end of summer! Stay tuned for this).
3. Reduce Chances of Rounding Fasteners
When tightening and loosening bolts and nuts, you want to make sure that you are not damaging your fastener. Our professional socket set is designed with a 6-point (hexagonal) off-corner design that when compared to the traditional spanner which has only three sides or a 12 point socket, these distribute the pressure on the bolt evenly and on the flats not on the corners which reduces the chances of rounding nuts and bolts, without compromising the amount of torque that you need. This socket set delivers more torque in a non-damaging manner that helps you work smoothly! 
Summary
Now that you know the three biggest features and benefits of a socket set make sure that when looking for professional sockets you take these points into consideration! Owning a professional-grade set of sockets gives you the ability to get your job done easier while saving time, preventing damage to fasteners, saving space in your toolbox and preventing any unnecessary frustration. Our sockets and socket organizers come with a limited lifetime warranty, 100% satisfaction guarantee and are backed by a 30-day risk-free return period.
Shop Our Professional Socket Set & Socket Organizers