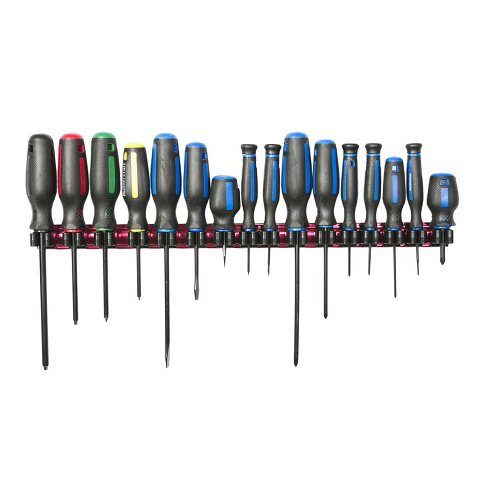 Organize Your Drawers with a Screwdriver Holders
Importance of Screwdrivers Organizers
While working in the garage, an already fastened screw tries to come off, if this happens, the whole day's job goes to waste, the best thing to do is grab a screwdriver and fix it back before the destruction is unleashed…but where is the screwdriver? Not the square head but the star-shaped. Cartons are lifted, the toolbox is scattered, the whole garage is turned upside down and then hurray! The screwdriver is found and destruction is prevented. Don't stay happy for too long, as the scenario might repeat itself and luck might just not be on your side. What you need is a screwdriver organizer. 
Ways to declutter your garage
Yes, garages are usually cluttered and no one cares about organizing it. This invariably makes the garage a dumpster. Contrary to popular thinking, organizing a garage isn't as difficult once the right tools are in place. Tool organizers are recommended to declutter the pile in the garage. They come in different forms such as screwdriver organizers, wrench organizers, socket organizers, and tool trays. They are modern organizing systems that put orderliness in the garage while reducing time spent on endless search and increased productivity. 
Type Of Screwdrivers
Screwdrivers are available in different forms and sizes and are very useful in the garage for quick-fixes. Their importance in the workshop is pronounced when an urgent fix as described above is needed. They need to be kept inaccessible sites at all times. Improper storage of screwdrivers spoils both the screw heads and the handles, hence they need to be properly stored away from other metals and from dust and dirt. A screwdriver organizer is an ideal option to ensure the proper storage 
Screwdriver Organizers Purpose
Screwdriver organizers help to keep all the screwdrivers needed in the garage is one place where they are neatly stacked and arranged in a customized fashion. Screwdriver organizers have compartments for each screwdriver type irrespective of the size and also some small tools and ratchets.   
Olsa Tools Magnetic Screwdriver Organizer has a magnetic back to make it stick to most of the metal surfaces. Additionally, the screwdriver organizer holds up to 16 different types of screwdrivers and has a strong magnetic holder which keeps the screwdriver in place at all times. Also, the screwdriver holder has a thin layer of foam protection which does not allow the clang of the metal together to cause destruction of the screwdriver. Screwdriver organizers among other tool organizers are quite essential in decluttering the garage and the importance cannot be overemphasized. 
In conclusion, screwdriver organizers themselves are made of tough and durable materials which guarantee the proper storage of the tools contained in it. The screwdriver holder can easily be attached to the work surface while work is ongoing. What are you still waiting for? Get a screwdriver holder today and bring down the mountain of clutter in your garage today.