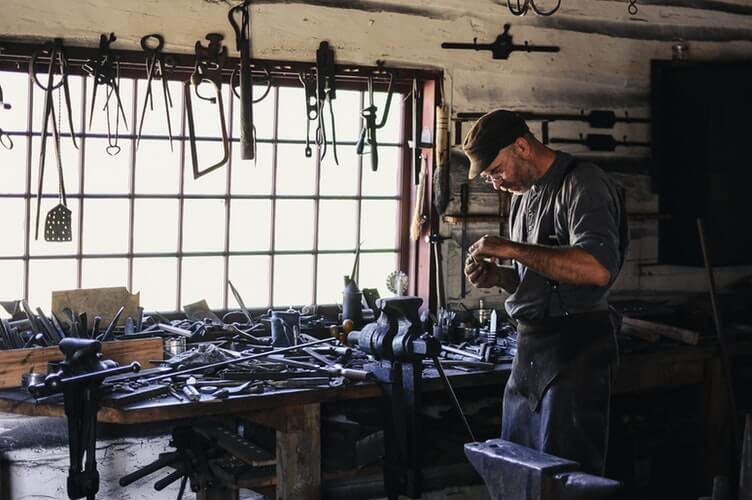 Steps to Sorting Your Tool Organizer Drawer:
When you look at your cluttered tool drawer, you may be intimidated to see the amount of work that needs to be used to organize all your tools. That is why it very important to set a time to organize all these tools in place so when you need them. you'll have convenient access to them. I have broken down the easy steps you can use to organize your tool drawers effectively.
Step 1: Begin Your Organization
Empty Out Tools Drawer Organizer
The first step to getting organized is to empty the items of your tool organizer drawers. By doing this, you can evaluate what needs to be organized. You can simply put all the contents on the ground or laying flat on the table.
In addition, this gives you the opportunity to clean the inside of the drawers and clear off any dust, debris, or bugs on the floor of the drawer. In case there is layer grease on the bottom of the drawer, you can use some paint thinner to help remove them.
Another chemical you can use to clear off the dirt off your drawers and tools is Acetone. Before you use this solution, please make sure you are in a ventilated area to ensure that do not experience any lightheadedness from the scent.
When you begin cleaning the tools, you can evaluate each one and determine if it's worth keeping. You can use an abrasive towel with paint thinner to remove mildew left on the tool. Also, keep an eye out for rust, chips, etc that may hinder the functionality of the tool. You can also take this additional opportunity to grease any moving parts and make sure they move smoothly.
Remove Unwanted Stuff
When you have cleared your drawers, you can throw away the item that you no longer need. You toss out items with loose screws and nails, rusted tools, and any other tools that just taking up wasted space in your toolbox drawer organizer. 
You can prioritize and decide which tools are needed in your tool organizer drawers. You can keep basic tool items such as wrenches, sockets, screwdrivers, measuring tape, pliers, and safety glasses. The rest you can either place them in a different area in your garage, give them away, or toss them in the trash bin.
Step  2: Return them into the Tool Box Drawers
Categorize the Tools
When you return all your tools back in the toolbox drawers, make sure to return them cleanly and organized them the best you can. The best way to do this is to categorize tools that are related to each other.  How you accomplish this task is up to you and a lot of it will depend on the tools you have in your toolbox drawers. You can put all the different types of wrenches, screwdrivers, sockets on their own areas of the tool drawers.
In addition, you can also arrange your tools and accessories according to their functions. For instance, washers, nuts, and bolts can be organized in the same space. Whereas, items like screwdrivers and wrenches can be organized in another drawer.
Another tool organizer method you can use is to sort them out by how frequently you use the specific tools. You can place your more important tools at the front of the toolbox drawers whereas the infrequent tools at the back of the drawers.
Separate the SAE and Metric
A popular method of organizing all your tools is to categorize the SAE and Metric tools. This can be very useful if you have a lot of sockets and wrenches in SAE and Metric sizes. You can purchase additional socket organizers that will fit in your tool drawer organizer to help you organize them.
Use a Tool Box Liner
If your tools have a tendency to get dirty very quickly from working on cars, my suggestion is to use tool box liner. You can place one-liner at the bottom of the toolbox drawer liner to keep grease and dirt off the bottom.
Label All Your Tool Organizer Drawers
To finish things off, you can label the front of your tool organizer drawers to make it more convenient for you to find the tool that you need. Instead of opening each drawer and searching for the tools, you can simply look at the label and determine where your intended tools are.
Step 3: Keeping Organize
Use a Pegboard
If you have an excess of tools lying around your garage or workshop that can be hung on a pegboard, this can help save you a lot of space. Buy yourself some hooks or attachments for the pegboard to hang these items.
Organize your non-tool items
If you have a bunch of small items such as nails, screws, etc, you can store them in a bag, basket, or trays. You can also improvise and use old plastic milk jugs or any other scrap containers and use them as storage for those small items. Then you can also label these containers with the items they're used for.
Clean After Yourself
Before putting the tools you use back in the toolbox drawers, make sure to clean them up. Initially wipe the dirt and grease off with a towel, followed up with a damp cloth and then finally dry them up before organizing them in the tool drawers. This will keep them clean and prevent rust on the tools.
Finally, make sure to but your tools back where you got them after use. Put them where you had them organized and so the next time you need them again, they'll be easier to find.
To help you organize all your tools in your toolbox drawers, make sure to check out Olsa Tools list of Tool Organizer