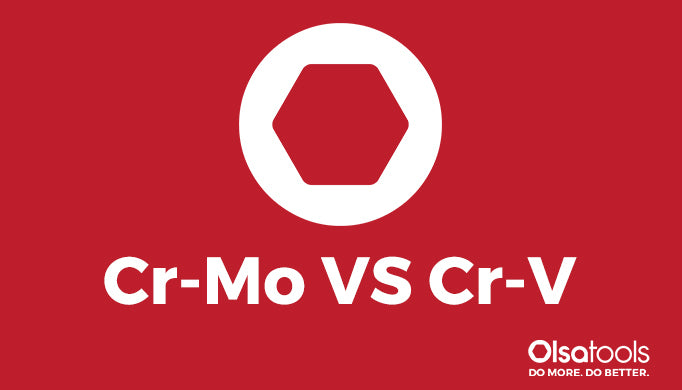 If you're in the market trying to find a good set of impact sockets for your toolbox, you might want to know the difference between the materials that are most frequently used in the creation of sockets, as it will have a huge impact on what type of work you should be doing with them. You can find impact sockets that are built using two types of steel; chromium vanadium and chrome molybdenum, you might be wondering if there really is a difference? The answer is yes!
Chrome molybdenum and chromium vanadium are two types of steel that come from the same family of steel alloys, containing between 96 and 98% iron (this depends on the standards the tool is built from). The difference between them is in the rest of the elements that are combined and mixed together to deliver the resulting product. We are going to help you better understand the differences between chromium vanadium vs. chromium molybdenum impact sockets so that you can make a wise choice when buying your next set.
This pie chart only shows the proportions to alloying and trace elements
Chrome Vanadium (Cr-V)
Chromium vanadium steel is mainly composed of iron, alloyed with several elements including chromium, vanadium, and carbon, and also contains a small number of other trace elements:

Chromium: 0.8-1.1%.

Vanadium: 0.15-0.30%.

Carbon: 0.40-0.53%. 

Silicon: 0.15-0.35% 

Manganese: 0.7-0.9%. 

Sulfur: 0-0.040%.

Phosphorus: 0-0.035%.
The mixture between the metal, carbon, and the rest of the elements are treated to extremely high temperatures and are then forged, creating a chromium vanadium steel with a fine grain structure that gives the resulting material its characteristics of strength and hardness.
It's very common to find hand tools and impact sockets in the market made from chrome vanadium steel; but chrome vanadium has a breaking point that when reached, can result in shattering and can cause personal injury; this is something that can happen if the tool is used under extreme impact loads applications, like if used on an impact driver.
This does not mean that chrome vanadium is not good, on the contrary, its properties make this metal great for non-power tools such as wrenches and other hand tools since it is very strong, durable, and won't deform even after many years of daily use. Many of our tools are made from this steel, such as our slim profile wrenches, chrome sockets , and wobble socket extensions.
Chrome Molybdenum (Cr-Mo) 
This is also known as chromium molybdenum, chromoly or chrome moly steel. As with chrome vanadium steel, Cr-Mo is mostly made from iron and contains various trace elements; however, the alloying elements differ, most notably the addition of molybdenum which gives the steel different properties which will be discussed below. For example, the SCM440 Cr-Mo steel used in our impact sockets contain the following alloys and trace elements:
Chromium: 0.9-1.2%.

Molybdenum: 0.15-0.3%.

Carbon: 0.38-0.43%. 

Silicon: 0.15-0.35% 

Manganese: 0.6-0.85%. 

Phosphorus: 0-0.03%.

Sulfur: 0-0.03%.

Nickel: 0-0.25%

Copper: 0-0.3%
The addition of molybdenum adds the great benefit of creating a steel that is slightly more flexible and can better absorb the energy from a shock. This makes Cr-Mo steel a great material for impact sockets as it significantly reduces the chance of the socket shattering when used with an impact driver.  This property is crucial for maximizing safety and reducing the chances of injury.
Olsa Tools Chromium Molybdenum (Cr-Mo) Impact Sockets
As you can see, when comparing chrome moly vs chrome vanadium, it's clear that chrome vanadium hand sockets and Cr-Mo impact sockets have a huge difference in performance and safety. At Olsa Tools we are committed to choosing the most resistant, durable, and safe material for each tool we put on the market, hence our professional-grade impact sockets are made from chrome molybdenum. The superior shock and shatter-resistance make this material perfect for impact tools; you can be confident that our impact sockets will be safe to use on impact tools! 
They are also designed with a 6-point off-corner-loading feature that reduces the chances of rounding off your bolts and nuts with your impact tools. As a bonus, they come with a blow-molded case so that you can transport them anywhere your job takes you. They come in shallow and deep in both Metric and SAE sizes so you can have the right sockets that you need for each type of application. 
Finally, to give you peace of mind, our professional-grade impact sockets, as with most of our tools, come with a limited warranty, a 100% satisfaction guarantee, and a 30-day risk-free return policy to back up our claims of professional reliability.
Shop Our
 

Chrome Molybdenum & Chrome Vanadium Tools