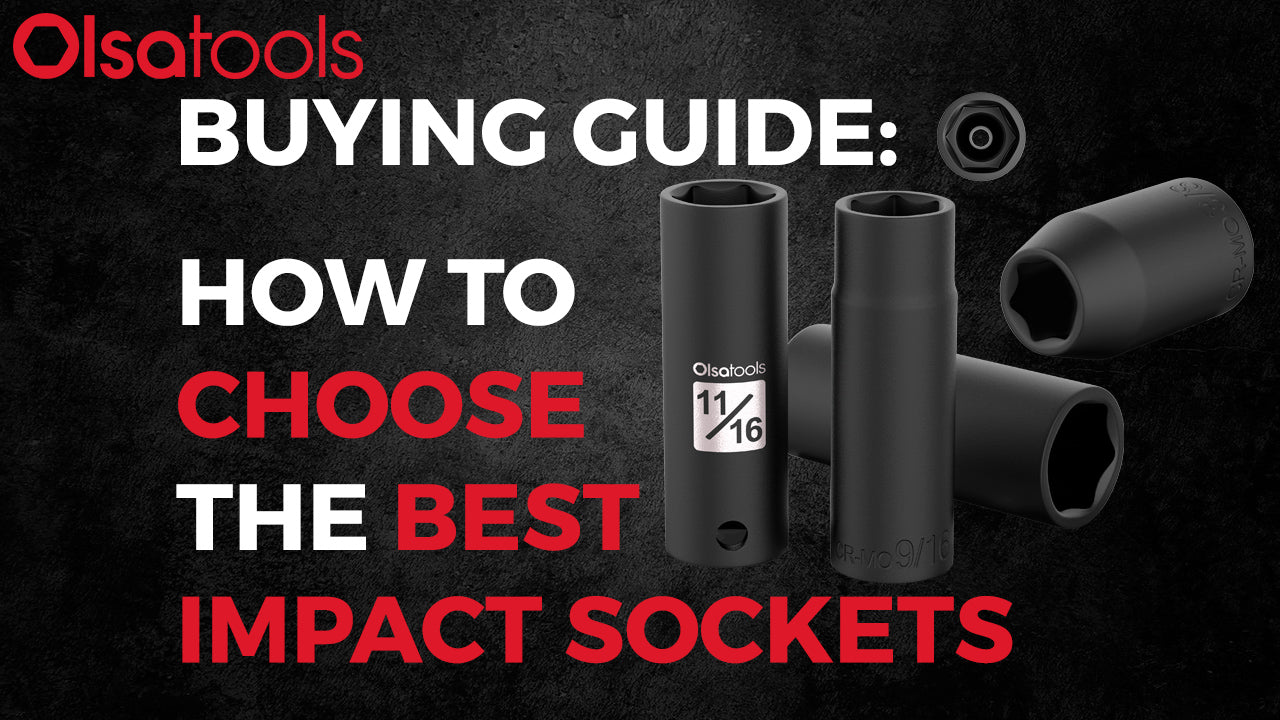 Are you thinking about investing in the best professional impact sockets? Having good quality tools not only applies to your impact power tools but also applies to your impact sockets set.
No matter the job, you will need to use the best set of tools to get it done right. This blog will help you decide how to choose an impact socket set that is the perfect fit for your line of work. 
Impact Sockets Types
The variation in the different types of sockets, such as the materials used, wall thickness and depth, impact their performance considerably.
At Olsa Tools we offer a professional grade Cr-Mo 1/2-inch drive deep or shallow sets. Which is the one you need? 
Both deep and shallow sockets have their own set of advantages and differences. Understanding their differences is what you will need to find out which is the one that works best for your needs. However, you may find out that having both sets is the best option for you. 
Deep 
Deep sockets are used to get to nuts fastened onto bolts where threads are too long to be reached by the shallow socket. Our deep sockets are 78 mm (3-1/16") long. This makes them capable of moving over a longer bolt's exposed threads and not collapsing before hitting the nut.
They are also used to tighten and loosen wheel nuts, making deep sockets desired by mechanics and car professionals. Another convenient application is that they can be used as an alternative for a shallow socket in some cases, giving them a great range of uses. 
Shallow
On the other hand, shallow sockets are considered the "classic" socket type. They are designed to work on nuts that are an inch or less away from the bolt's shaft. In addition, they're also used to work in tight spaces where the deep ones can't fit into. Our shallow sockets are 38-40 mm (1-½") length.
Features You Need To Consider 
1) Quality Materials
The quality in which any tool is designed is what matters the most. Especially when working with high-force impact drivers. Make sure to take into consideration that the socket set is engineered with industrial-grade Chromium Molybdenum (Cr-Mo) steel. Since this is the material used for quality impact sockets. 
2) Wall Thickness
The Cr-Mo steel that these impact sockets are made with offers increased strength and shatter resistance, improving their durability while maintaining a thinner wall design and a heavier weighted socket.  The extended mass of these walls supports the repeated impacts from the impact wrench without damaging or deforming the socket.
3) Easy Portability
The number of pieces inside an impact socket set requires protection, organization and portability. Our impact sockets come with a long-lasting carrying case for safe storage and quick organization of your set.
4) Variety Of Sizes
You know the range of sockets you can use on a daily basis. Therefore, getting a set that contains the most popular sizes is crucial. Our impact sockets come in SAE and Metric with the most frequent sizes included. For a rapid and more simple socket selection, pick one with large font size stamping and high visibility laser-etched markings. 
5) Satisfaction Warranty 
Make sure that your investment is protected when purchasing new tools. Products with a satisfaction & lifetime warranty are the best option that you have for peace of mind knowing that the buying manufacturers are committed to offering high standard tools. 
Summary
For keeping a productive workflow, professional mechanics use these sockets in more tools than impact wrenches and guns. Having a variety of sockets is essential to all mechanics. We hope that this guide has helped you to understand some of the details that you need when it comes to buying a new set of impact sockets. Just make sure to choose the right set that best fits your needs. You can check out the selection of our impact sockets below:
Shop Our Professional Impact Sockets