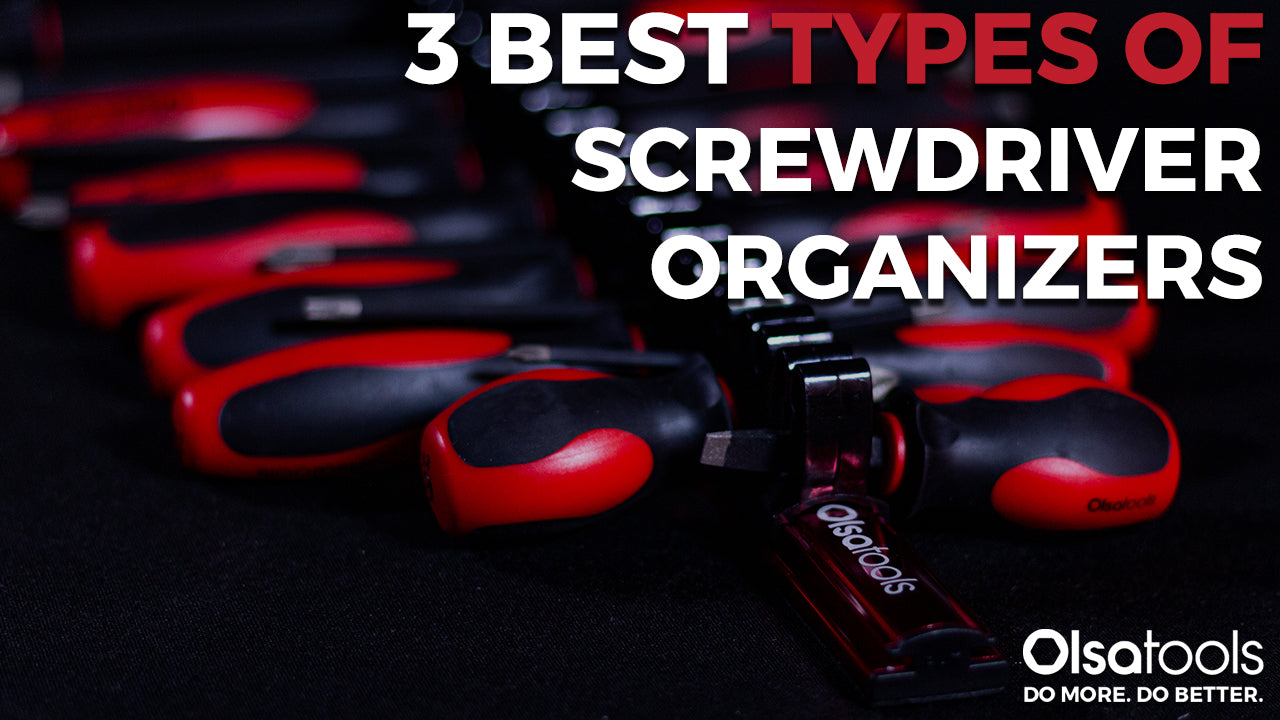 Screwdrivers are some of the most used hand tools by any mechanic, handyman, or tool enthusiast. If you are tired of throwing your screwdrivers into a messy bin or chaotic toolbox, it is very likely that you waste your time when trying to find the right one. That's why it is so crucial getting the right tool organizer to keep things tidy and have the right screwdriver within arm's reach. 
Tool organizers are a great choice when you don't want to have them in the trays or take up too much space from your garage. To simplify your tool storage options, here are 3 of the best types of screwdriver organizers that will make tool organization easier for any shop.
This is the best type of screwdriver organizer to free up some space in your toolbox or improve your storage capacity. The Olsa Tools magnetic screwdriver organizer doesn't need fancy installations, as it can be placed onto most steel surfaces. The organizer is crafted using rare earth (neodymium) magnets that are super strong and will stay put even when loaded with your screwdrivers, while the thin layer of foam protects the surface from any scratches. 
The holder has 16 high tension clips that hold screwdrivers and other small tools for a secure and optimal organization. You can slap the organizer onto the side of your toolbox or metallic pegboard vertically or horizontally, and easily clip your most-used work items.
This simple and useful holder stores your tools and ensures you always have the right screwdriver for the job at hand. The Olsa Tools wall mount screwdriver holder is multifunctional as it holds screwdrivers, spanners, ratchets, pliers, and other small tools. With 2 mounting screw holes, you can place it anywhere that is more fitting. The only thing left to do is push your chosen tools into the 14 swivel clips and release them anytime. Your screwdriver will be easy to grab, saving so much time and frustration when doing repairs and maintenance tasks. 
If you are looking for something for the screwdriver drawer, this option is the best type of screwdriver organizer for you. The anti-slip design of these Olsa Tools screwdriver organizer rails assures your tools stay put even under rough handling. The organizer system is perfectly made to save space as it holds 14 of your screwdrivers so you can make more room to fit other tools inside the drawer. The strong thermoplastic rubber is highly durable and provides a comfortable grip while handling the holder, while also helping you keep your tools perfectly tidied up to never lose sight of them again.
What's The Best Type Of Screwdriver Organizer For You?
The best screwdriver organizer is versatile and convenient for your driving needs. You can easily have all 3 of them if you have large sets of screwdrivers. But if you are only looking for an option to keep them in place or make them easy to carry and transport around the shop, this magnetic screwdriver organizer might be the most useful for this job. Plus, it holds other small tools. How awesome is that? These screwdriver organizers are backed by a limited lifetime warranty, 100% satisfaction guarantee, 90-days free-return policy, and free shipping. Shop our organizers below:
Shop Our Professional Hand Tools